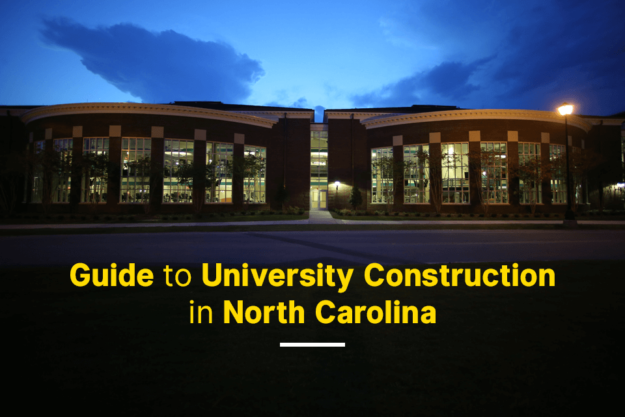 Guide to University Construction in North Carolina
As higher education has become more popular among young adults, schools all over the country are looking for ways to be competitive. Even though enrollment has gone up by 5% since 2000, it has never been an easy market. This need for a competitive edge has created a changing landscape, full of higher education organizations looking to develop buildings that empower their students and enable them to accomplish new tasks to further their careers.
When it comes to adding these buildings on campus, owners have several factors to consider such as: the timeline, the type of building, and choosing the best general contractor. While these topics can be difficult to sift through, we've put together a management guide for university construction specifically in North Carolina.
Current Trends
From buildings that provide state-of-the-art resources to those that offer a relaxing place for students and faculty to focus, work, and collaborate, university construction projects can enhance the offerings of any campus. Typically, these buildings improve or add to the tools and resources available to students on campus, such as buildings designed for specific disciplines. Incubators are also popular, along with areas like maker studios and event spaces or student centers. Each of these is popular for different reasons, adding a competitive feature to the schools that adopt them.
Many universities have added the following buildings or projects to their schools for a strong competitive edge:
Renovations: Renovating higher-education buildings is an excellent way to give them a refresh and an update. North Carolina is filled with historical buildings. Many schools will renovate to keep their buildings' historic charm while simultaneously offer modern amenities.
High-tech buildings: Industry developments happen fast, and many universities try to stay ahead of the curve with buildings dedicated to high-tech fields like those in Science, Technology, Engineering, and Mathematics (STEM). These buildings might contain state-of-the-art technology for different fields, like high-end laboratories and tools for science students and 3-D printers for engineers. They also tend to spur university renovations, as they must stay up-to-date with the technology available.
Incubators: Creating a connection between industry and education is something that many universities aim to do. With an incubator, students can gain access to funding, tools, and resources that can help them gain a better foothold in the field. Many schools — including Harvard, University of Pennsylvania, and Stanford — host startup and business incubators that help entrepreneurs get access to resources, like investment funding, office spaces, and workshops.
Collaborative spaces: Many schools have been adding more community spaces, like lounges, cafes, study spaces, and sports courts to foster more community within the student body. Some schools are even shrinking living spaces in favor of these shared spaces. They might create a sprawling student center with dining options, study spaces, and conference rooms, or they could create event spaces that can host meetings or shows.
Trade buildings: Two-year schools often create trade buildings dedicated to certain fields that may require a more hands-on education. Welding, hydraulics, and information technology can fall under this category.
Dormitories: To attract new undergraduates, many universities focus on updating residence halls and infrastructure that may have been built half a century ago. New or updated dorms are often built to be sustainable and to use smart building techniques to stay energy efficient.
Dining centers: Many universities building new dining facilities require additional food serving areas and some schools adopt modular designs to accommodate a mix-and-match approach. Demonstration cooking is also on the rise, with designs that allow students to watch chefs prepare food. Another popular change is turning the student eating space into something more lounge-like to make the dining hall more welcoming. Aesthetically pleasing design and comfortable seating can go a long way in increasing student satisfaction.
Libraries: Popular additions for libraries often focus on collaboration and technology. Supporting collaboration is a significant goal for many schools, so spaces for group work are essential. In addition, it gives more space for makerspaces, tutoring centers, and open learning areas. Increasing technology options by adding power outlets, lab spaces, and built-in presentation resources like TVs and HDMI adapters can also be valuable.
A Typical Project Timeline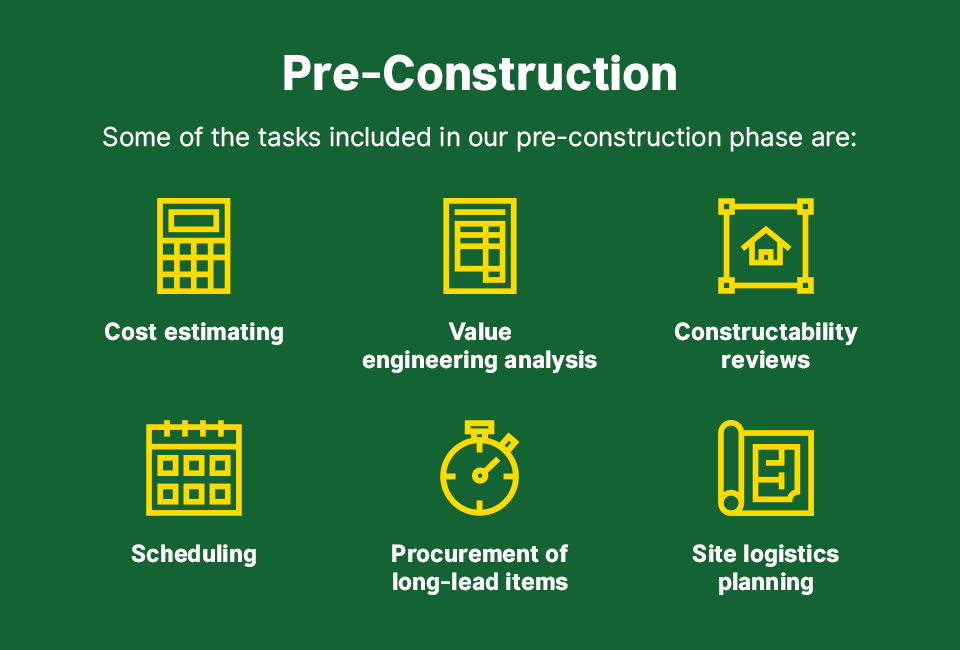 Working with large buildings like those on a college campus is more complex than other construction jobs. Typically, the timeline for higher education buildings might look something like this:
1. Pre-Construction
The pre-construction phase helps us with preparation for our North Carolina university construction projects. Whether you need us for design-build or construction management, we're here to help regardless of the project delivery method. Some of the tasks included in our pre-construction phase are:
Cost estimating: We'll calculate the total cost of the project, with a conceptual estimate, schematic estimate, design development estimate, construction estimate, and guaranteed maximum price (GMP) estimate.
Value engineering analysis: This is a calculation of the value and the return on investment your project offers.
Constructability reviews: Expert construction engineers go over project designs and ensure they are viable. Finding a feasible design involves looking at aspects of the building like site access, utility connections, and other logistical considerations.
Scheduling: We create a detailed project timeline and a realistic schedule.
Procurement of long-lead items: Some elements will take longer to get than others. We'll get started on the process and create deliveries for these items, so the project stays on schedule.
Site logistics planning: We will also generate a logistics plan regarding the workflow of a job site to ensure a safe and organized project.
As we work on the pre-construction phase, we look to partner with minority and woman-owned business enterprises (MWBEs) or historically underutilized businesses (HUBs).
2. Construction
After the groundwork has been laid, construction begins. During this phase, we offer the following:
Progress reporting: With regular progress reporting, we can keep you informed about everything happening at the job site. We can provide a summary of work, progress photos, health and safety assessments, and other requested information.
Site management: Overseeing the job involves ensuring compliance with laws, regulations, and safety requirements. We will maintain thorough communication with all team members to facilitate an efficient construction job and stay on schedule.
3. Post-Construction
With construction finished, we will also complete a post-construction checklist to ensure everything is in place for project completion. Then, the architect will issue a certificate of completion along with blueprints, operational manuals, and warranty information. We'll walk you through every aspect of the building you'll need to know, so you're ready for ownership and can prepare to open the building up to students and staff.
Questions to Ask and Be Asked
With every construction project comes a variety of questions — for both the owner and the contractor. They'll want to know about your vision for the project, while you'll want to make sure they're the right fit for the job. Some questions you may want to ask include:
Do you have prior experience with this kind of project?
How long have you been in the industry?
Who will be my point of contact, and how can I communicate with them?
What does your timeline typically look like?
Can you show me your license, bond number, and insurance?
Who does site supervision?
What does the payment schedule look like?
As for the questions the contractor may ask you, prepare your answers with information on:
Your budget
Your ideal completion date
Your wishlist
Your must-haves or deal-breakers for the project
Problems you have with your current space, if applicable
Things you like about the current design
Building Construction Tips
Here are a few other planning tips for university construction:
1. Analyze Your Space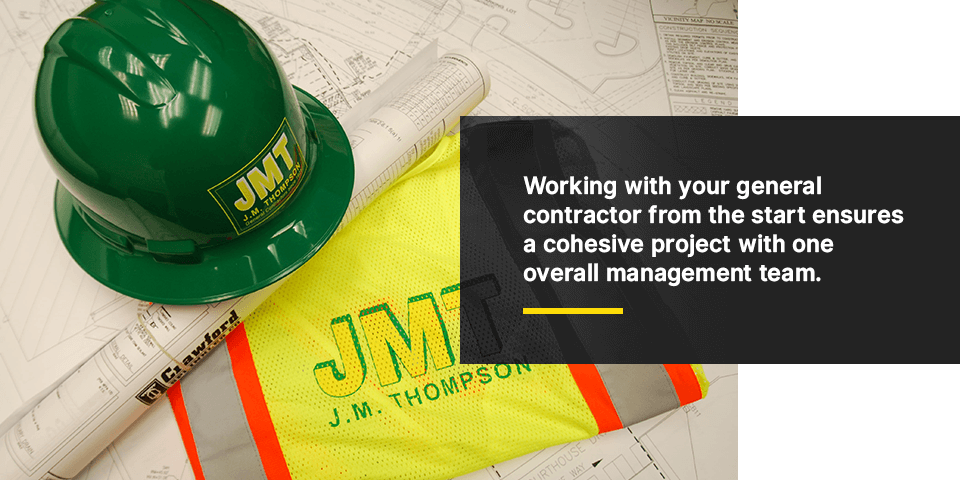 Be sure to take time and conduct a thorough space analysis with as much data as possible. Pay special attention to how much room you have and how you can maximize it to its fullest potential. Campuses can be relatively tight-knit, so optimizing space is essential. See if you can work in a way that completes tasks simultaneously, and look for existing infrastructure such as plumbing that you can keep in place. Knowing your site will help you organize and plan effectively.
2. Finalize Your Construction Team
The sooner an owner selects a construction team, the sooner the project breaks ground. Working with a general contractor from the start ensures a cohesive project with one overall management team. We streamline and plan every piece of the puzzle for an efficient, well-oiled machine that gets your project done.
3. Leave Room for Budget Changes
Unforeseen events are always a possibility. Weather delays, unaccounted expenses, project adjustments, and more can add to your total project costs. Working with experienced contractors can help minimize these costs.

Partner With J.M. Thompson for University Construction in North Carolina
If you're looking to make your higher-education campus more competitive, you need the right contractor to help plan and budget for the job. We've been in the business for a century and put commitment and hard work at the forefront of every project. We're intimately familiar with the university construction process in North Carolina which means we put all the expertise we've gained over the years into creating a top-tier team to construct your campus building.
Whether you want to create a massive new student center or renovate an existing building, we provide quality results at reasonable prices, complete with a friendly and expert staff. To learn more about finalizing your team with J.M. Thompson, contact us today.